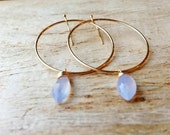 This  week's shop feature is Kim Bloomberg Designs. She  makes earrings, bracelets, necklaces and rings. I actually love how  simple and elegant these pieces  are made by her.  You might just love her style too.  I think my favorite piece is the Green Amethyst necklace. Here are more information about her beautiful pieces of jewelry
.

1. How did you come up with the Name of your Shop?
 Nothing too creative - it is my name.
 
2. Tell us a little bit about your shop and what you think makes it unique?
My shop is a small display of the thousands of pieces of jewelry I have designed. All of my jewelry is inspired by nature or nature's affect on architecture. On my facebook page I run an ongoing series called "inspiration/creation" where I show the picture of what inspired the jewelry.